Eat like a farmer
Full Diet, Free Choice, Nutrient Dense CSA.
Let's break that down. . .
Full Diet: Between our two farms, we are able to offer a wide assortment of produce, herbs, fruit, beef, pork, raw dairy, eggs, fats, fermented items and more! Also expect to see other locally-available pantry items such as honey, grits and bread. While we may not supply you and your family with 100% of your diet (you still may want some coffee or a bag of chips ;-), a person or family could build a very robust daily menu around what we offer — for breakfast, lunch and dinner! Plus we will be sending along recipes and cooking tips!
Free Choice: The number one complaint across the country of a CSA is "too much of one item and not enough of another." But often times those items are different for each customer! With this CSA, you will get to build-your-own box each week from an online ordering system, choosing from all items available. No more receiving an item you know your family won't eat! See a sample order form here.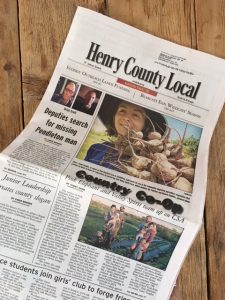 Nutrient Dense: We believe food is a powerful and essential component to
good health. Strong plants grown in healthy, alive soil means you are maximizing the nutrients available in each and every item — and harvesting them fresh means they don't lose their quality sitting on a store shelf. The same is true for products from healthy animals: when they get to thrive in their natural environment, it means there is a wider range of of vitamins and minerals and a higher concentration of good, essential fats and fatty acids. For us, this means all animals are on pasture and produce is raised with Organic and Biodynamic growing standards.
"I think the first delivery we got- when we realized just how much food we were getting for our money, and the QUALITY of the food. This is seriously one of the best decisions we have made for our health in our entire lives. Being able to eat and enjoy meat (without guilt!) that we know has been raised in a healthy, sustainable, and humane way has really changed our experience of cooking and eating."
FULL DIET PRICING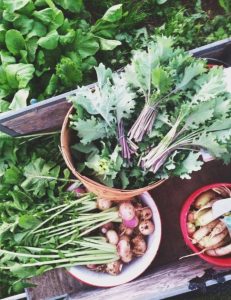 SPRING/SUMMER SEASON
15 weeks from April – July
15 deliveries, every week starting on Thursday, April 19th.
FALL SEASON
16 weeks from August – November
16 deliveries, every week starting on Thursday, August 9th.
WINTER SEASON
16 weeks from December – March
8 deliveries, every other week.
Everyone takes a one-week break between each season, and within the season we're happy to do one flexible week you can take off anytime you need it. Just let us know when you'll be traveling.
All pricing includes home delivery. This system, while highly flexible, is based on what we think your household might consume each week (or delivery period). There will be no prices listed on your order sheet.
Base Price (First Adult) – $110 / week
Each Additional Adult – $55 / week
Children/Young Adults (ages 7-18) – $15 / week
(Children 7 & under – FREE)
PAYMENT OPTIONS
Our membership is limited, but we can welcome you at any point in the year if we have space available. We ask that you join us for a season, with two payment options:
Pay for 4 weeks at a time – first payment due one week before first delivery
Prepay for the full  Season for a 5% discount (check or cash only)
Vegetarian members receive a 10% discount (still includes milk, eggs, bonus items, etc.)
Pick up at the farm each week for a 10% discount!
WHAT'S MY PRICE?
You let us know how many people need to be included in your membership package. Please take into account who in your household will be eating on a regular basis with you. Below are some scenarios to offer you an example of how to assess your needs.
I am a one adult household with three small children, one under the age of 7. My membership price will be for 1 adult and 2 children: $110 + $15 + $15 = $140 / week.
Monthly (4 week) price: $140 x 4 = $560
Price per day: $18 ($4.50 per person per day)
I have a household with two adults, one child in high school, one in middle school, and one in elementary school. We cook a lot and my oldest child is constantly hungry and often eats more than I do! My membership price will be for 3 adults and 2 children: $110 + $55 + $55 + $15 + $15 = $250 / week.
Monthly (4 week) price: $250 x 4 = $1000.
Price per day: $33  ($6.60 per person per day)
If you aren't quite sure about committing to the full season, that's okay! Let us know you would like to signup for one month and give it a try…
A GENERAL GUIDE OF AVAILABLE ITEMS
You pick your desired items each time.
– See a Sample Order Form –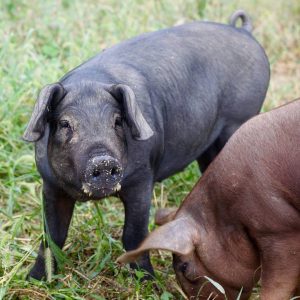 "[I loved] the milk, eggs, bread, honey, ferments!!! It really feels too good to be true. Learning how to cook a really yummy pork tenderloin and pairing it with Louismill smoked grits and sautéed greens with garlic and onions- every thing from the CSA and the whole family loved every bite! "
SPRING/FALL/WINTER VEG: Kale, Collards, Salad Mix, Arugula, Spinach, Beets, Carrots, Celery, Potatoes, Sweet Potatoes, Asparagus, Cabbage, Turnips, Radishes, Green Onions, Peas, Winter Squash, Garlic
SUMMER VEG: Tomatoes, Okra, Green Beans, Cucumber, Eggplant, Peppers, Potatoes, Carrots, Onions, Blueberries, Melons
100% Grass-fed Ground Beef, Chuck Roasts, Steaks, Marrow Bones, etc.
Pastured Ground Pork, Sausage, Bacon, Ham Roasts, Pork Chops,  Bratwursts, etc.
Pastured Whole Chicken from nearby Faul Farm (fed non-gmo grains)
Raw Milk*, Yogurt, Pastured Eggs
Lard and Tallow (we can help you learn how to use these amazing fats!)
Lacto-fermented Vegetables and Pickles
Fresh-milled Sourdough Bread, Grits and Cornmeal from Louismill
Honey, Sorghum and other local, natural sweeteners
*Any raw milk orders require members to join our herdshare
FAQs
How do I order my food? 
Each delivery period we will send out an email with a link to an order form. You will select which items your family would like to enjoy. Keep in mind during the winter season, you will be ordering for two weeks at a time. Your order will need to be placed a few days before delivery to allow for harvest and packing time! But don't worry, there are no prices on the order sheet as your membership package covers all of your selections. Items will only be limited if the harvest requires it for that particular week.
How does delivery work? 
We will deliver all of your items to either your house or office. If no one is available to receive it, a large cooler with ice packs will need to be left on the porch for us. Ideally it can be left in a shady, covered spot. If you have a fridge/freezer that is accessible in the garage, that is ideal!
What if I am going on vacation and need to skip a week?
We will try our best to work with your schedule needs. Just let us know when you will be gone and we can arrange for you to either skip one week, share it with some friends, or coordinate a better delivery time so you have food for when you return!
Is the price per week or per delivery in the winter?
You pay based on the total number of weeks. Since the winter time is generally a slower pace (i.e. plants grow slower therefore needing more time between harvests), we are only delivering every other week. But the pricing is weekly since we assume you won't be taking a week off from eating in between deliveries! We really hope that we can provide a significant amount of your grocery list each week, plus giving you the convenience of having it delivered right to your door.
Can I get any items more often than every other week in the winter?
If you so choose, milk can be delivered weekly.  Given that grocery store eggs are typically at least one month old, your eggs should be just fine for two weeks. Cold-hardy crops are storing champions. We harvest right before delivery and they should keep well. Be sure to store any greens in a plastic bag to help them retain their moisture.
What if I already receive deliveries from your farm?
Joining the full diet CSA means everything will be made available to you through one order form and come in one delivery. A big goal of this CSA was to help folks exactly like you who may be managing multiple accounts/markets/deliveries/pickups/etc just to supply everything you need for the week! This will roll everything into one easy ordering system and one convenient delivery.
We are so excited about pioneering this model in Louisville.  No matter whether it's a big industrial or small family farm, farming brings the constant push to grow more, get bigger. We see this as a way for us to stay small and intentional, to develop and deepen relationships. Ultimately, we hope it allows us as a family to focus our efforts and have some financial stability in what is otherwise a pretty wild, unpredictable environment. Your direct investment in not only your own health and taste buds, but also the local food system and environmental movement, means you become our highest priority. We are grateful.
– Jenny & Justin, Joseph & Abby (Valley Spirit), Caleb & Kelly (Valley Spirit)
This is new and We will not be surprised if you still have questions, so don't hesitate to ask! pinkelephantfarmers@gmail.com